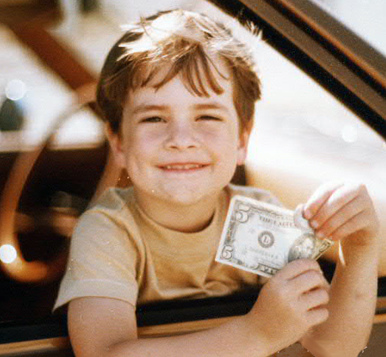 Even before your children can count, they already know something about money: it's what you have to give the ice cream man to get a cone, or put in the slot to ride the rocket ship at the grocery store. So, as soon as your children begin to handle money, start teaching them how to handle it wisely.
Making allowances
Giving children allowances is a good way to begin teaching them how to save money and budget for the things they want. How much you give them depends in part on what you expect them to buy with it and how much you want them to save.
Some parents expect children to earn their allowance by doing household chores, while others attach no strings to the purse and expect children to pitch in simply because they live in the household. A compromise might be to give children small allowances coupled with opportunities to earn extra money by doing chores that fall outside their normal household responsibilities.
When it comes to giving children allowances:
Set parameters. Discuss with your children what they may use the money for and how much should be saved.
Make allowance day a routine, like payday. Give the same amount on the same day each week.
Consider "raises" for children who manage money well.
Photo: theritters
____________________________________________________________________________________
The information contained in this material is being provided for general education purposes and with the understanding that it is not intended to be used or interpreted as specific legal, tax or investment advice. It does not address or account for your individual investor circumstances. Investment decisions should always be made based on your specific financial needs and objectives, goals, time horizon and risk tolerance.
The information contained in this communication, including attachments, may be provided to support the marketing of a particular product or service. You cannot rely on this to avoid tax penalties that may be imposed under the Internal Revenue Code. Consult your tax advisor or attorney regarding tax issues specific to your circumstances.
Neither Ameriprise Financial Services, Inc. nor any of its employees or representatives are authorized to give legal or tax advice. You are encouraged to seek the guidance of your own personal legal or tax counsel. Ameriprise Financial Services, Inc. Member FINRA and SIPC.
The information in this document is provided by a third party and has been obtained from sources believed to be reliable, but accuracy and completeness cannot be guaranteed by Ameriprise Financial Services, Inc. While the publisher has been diligent in attempting to provide accurate information, the accuracy of the information cannot be guaranteed. Laws and regulations change frequently, and are subject to differing legal interpretations. Accordingly, neither the publisher nor any of its licensees or their distributees shall be liable for any loss or damage caused, or alleged to have been caused, by the use or reliance upon this service.