One of the main goals at Epilawg is to help you plan your own epilogue to your life. Many of the posts here discuss passing on what you've accumulated during your lifetime to your loved ones. However, what if everything you accumulated throughout your life is lost because of your health? Because you did not plan for your long term care?
The Importance of Long Term Care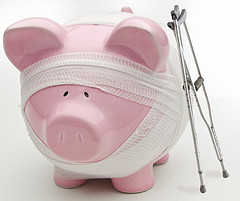 One of the biggest reasons most consumers don't create long term care plans is because they believe the government will pay for it. In reality, Medicare only pays for short-term, skilled nursing home care following hospitalization and state Medicaid programs require recipients to spend down to the poverty level in order to qualify for assistance. Under 2012 federal guidelines, to qualify for Medicaid, your assets must be spent down to $3,000 (this includes all income and retirement accounts) and a "healthy" spouse can only have up to $113,640 in resources (as well as a home, car and personal belongings) and up to $2,841 in monthly income.
Other than these limited programs, the financing options for care include long term care insurance, reverse mortgages, or paying out of pocket. Long term care coverage is a suitable option for those who can afford insurance premiums but do not have sufficient funds to pay for care without putting their assets at risk. Long term care coverage is one of the only safety nets that will protect people from the financial risks of needing long term care.
This November, during Long Term Care Awareness Month, it's important to discuss with your family the importance of long term care planning. Now is the perfect time to speak with an insurance agent or financial advisor about how long term care protection can be added affordably to any financial plan. In addition, for Minnesota residents, there is a statewide program called Own Your Future, which will help Minnesotans plan for future long term care needs. Visit the Own Your Future website to find information on how to prepare, plan, save, invest, and pay for long term care services.
Photo by: kenteegardin