February 3, 1894 – November 8, 1978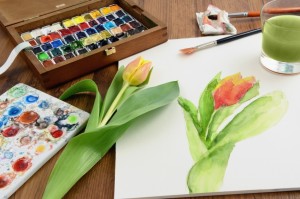 Norman Rockwell is an American artist, whose works of art often portrayed a certain innocence regardless of the subject of the paintings. Rockwell was born in New York City and began his career as an illustrator. He painted his first cover for The Saturday Evening Post when he was 22 and went on to paint another 321 covers throughout his lifetime.1 Eventually Rockwell moved to Vermont and began capturing scenes of the small towns in New England. Later in life, Rockwell moved to Stockbridge, MA, where he ultimately passed away.
Rockwell however did have the foresight to protect his work and his legacy. In 1973, Rockwell established a trust to be the custodian of his works, along with his art studio and its contents. The Old Corner House Stockbridge Historical Society was the original guardian of this trust, which in time became the Norman Rockwell Museum.2
A new biography of Rockwell's life has just been published. American Mirror: The Life and Art of Norman Rockwell, by Deborah Solomon, suggests that Rockwell's life was an opposite of his work. You can read more on the new biography and Rockwell's life here.
1 & 2Normal Rockwell Museum Website: About Norman Rockwell