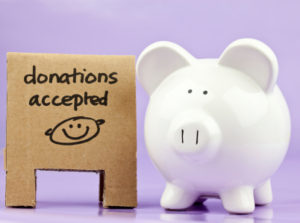 Maggie Green recently wrote about instilling charitable values in children in her post Raising Young Philanthropists. While this post is a little off topic from most of our estate planning articles, in honor of the 2011 National Pro Bono Celebration, I thought it was appropriate to extend the conversation not only to charitable giving but also to volunteering one's time.
I believe that volunteering time can be more valuable to the volunteer than to the recipient. I believe volunteering to help those less fortunate allows the volunteer to gain a stronger appreciation for all the blessings he or she has in life. Volunteering time to help a community cause or organization, to which the volunteer belongs, develops a stronger connection and loyalty to that community or cause.
As parents, if you make volunteering and philanthropy a priority in your life and your children's lives, children will likely learn the value of helping others and gain a sense of personal satisfaction at a much younger age. I think by teaching children at an early age to volunteer their time, they are more likely to incorporate volunteerism and philanthropic giving throughout their lifetime, which will benefit your child, the community and those in need.
As attorneys, we battle the stigma that we are all in it for the money. However, that is quite the contrary for most. I would argue that a survey of attorneys asking why they went to law school would show many did so to be in a position to make a change. In 2009, the results of a study conducted by the American Bar Association Standing Committee on Pro Bono and Public Service concluded that 75% of lawyers provide free legal services.1 The legal system is one of the largest ways to make a difference in people's lives. I think most attorneys understand the importance of advocating on behalf of those who cannot afford an attorney to ensure they are represented fairly and adequately.
I take pride in belonging to a profession that gives back to the community and in the pro bono work that my colleagues and I do. However, I will be honest some lawyers may provide pro bono services only because they are required or "encourage" to do so by their firms. However, could you imagine if more businesses and companies required employees to perform public services and allowed them time off to do so? The sense of community would grow stronger and more people in need would be helped.
I know many people would give more to charities if only they had more money. But for those of us with little financial assets, e.g. those of us carrying large student loan debt, another way to give back is donating your time. I know time is a precious commodity to most, but just as even $5 can make a difference so too does just an hour of time.
People often think, "I don't have the time to spend volunteering for a full day or even a half day project," but think small and set realistic goals. Sometimes building in a routine of when you volunteer can make it easier. Can you volunteer an hour a month? More? Or can you set aside a half day quarterly? Once you determine how much time you can give, then research organizations or causes, about which you are passionate, contact them and say, "I have this time to give, could I be of service to you?" Like most financial donations, most organizations will take what they can get. Resources are scarce and any help these days is greatly appreciated.
Try to include your family in the service but if you can't, share your experiences with them to encourage other family members to seek volunteer opportunities on their own. And remind them – if you can't donate money, donate your time!
1http://apps.americanbar.org/abanet/media/release/news_release.cfm?releaseid=556