Epilawg is in the running for The Expert Institute's Best Legal Blog Competition!
The competition will run from August 27th until the close of voting at 12:00 AM on October 9th, at which point the votes will be tallied and the winners announced.
We would love it if you took a moment to support Epilawg by voting for us.  Just click on the box below and vote for us by clicking "vote." Thank you!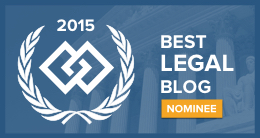 About The Expert Institute:
Founded in 2011, The Expert Institute is a technology-driven platform for connecting qualified experts in every field with lawyers, investment firms, and journalists looking for technical expertise and guidance. The Expert Institute combines a vast database of pre-screened experts with a talented case management team capable of custom recruiting experts to fit the specific needs of our clients. The Expert Institute also maintains one of the internet's most visited blogs on expert witnesses, in addition to an extensive case study archive and expert witness resource center.